Personal History
I was born in (then West) Berlin in 1962. I came to the USA in 1970, settling in Washington D.C. for the high school years, and finally in Charlottesville, Virginia.

B.A. Astronomy, B.A. Studio Art, University of Virginia, Charlottesville, in 1985. Technical illustrator since 1988: research and conceptual graphics for the scientific community, popular press, and corporate clients. 3d CG art since 1994, and stereoscopic illustration and 3d photography since 1997.

Aside art and family life, I love airships, bicycle road racing, astronomy, and spacey ambient electronic music. I also like the art of M.C. Escher, Frederick Edwin Church, Maxfield Parrish, Alexander Calder, Pal Imre, Jim Burns, Brian Lewis, Edward Weston, Hans Knuchel, Lynn Butler, Larry Ferguson, Stanislaw Lem, Ayn Rand, Edward Tufte, Brian Eno, Vangelis, Diblo Dibala, Frank Sinatra, Antonio Carlos Jobim, Coleman Hawkins, Ligeti, Tangerine Dream, Jean Michel Jarre, and Santana!


Commercial Clients / Publications
P.E.I. magazine, Overdrive magazine, Scientific American magazine, New York Times, Stereo World magazine, American Prospect magazine, Federal Express, Volvo Trucks N.A., Navistar, Mack Trucks, DZS Software, Boxerjam, Cambridge University Press, Psychology Press Ltd, Llewellyn Worldwide, North Atlantic Books, Kendall Hunt Publishers, John Wiley & Sons, Virginia Film Festival, University of Virginia, Meta Research, Global Cellular Solutions, Composite Materials International, Directed Vapor Technologies Inc., among others.


Collections / Galleries
EXPLORA Museum, Frankfurt
Museum of Jurassic Technology, Venice
Museum of Sex, New York City
Art@Large Gallery, New York City
3-D Center, Portland



Exhibitions (Photographic Society of America)
Juried International Stereoscopic Exhibitions

2002 Winner: Stereo Print Image of the year
2001 Winner: Stereo Image of the Year
2000 Winner: Stereo Image of the Year


1997 - 2002:

70 international juried stereoscopic Salons entered:
221 accepted images,
40 Honorable Mentions
16 awards (3rd place, bronze medal, or special category awards)
20 PSA Silver medals (2nd place, Best Contemporary, Best Creative awards)
9 PSA Gold medals (1st place, Best of Show awards)


Exhibitions (Other than PSA)
12/1998, Charlottesville Artspace (anaglyphs, phantograms, slide stereoscopes installation)
10/1999, Dreams Light Gallery, Charlottesville (anaglyphs and phantograms)
01/2000, SPIE / SD+A, San Diego (Anaglyphs and phantograms)
fall/2000, McCormick Observatory, Charlottesville (anaglyph prints)
12/2000, CCAE - Jefferson Theatre, Charlottesville (anaglyph prints)
02/2001, ALC Gallery, Charlottesville (anaglyph prints)
11/2001, Ten Flavors Studio, Charlottesville (anaglyph prints)
spring/2002, Virginia Discovery Museum, Charlottesville (anaglyph and stereojet prints, anaglyph shadow demonstration/installation, lenticulars poster session)
04/2004, 3-D Center, Portland (anaglyph prints)
07/2004, Neo Erotique juried show (Gallery Art@Large, Manhattan - MF3d slide stereoscope installation)
04/2005, Seattle Erotic Arts Festival (winner: first place award, visiting artists juried show - MF3d slide stereoscope installation)
11/2005, Design Within Reach, Washington, DC - Recent Past Preservation / Cyclorama benefit show (anaglyph prints and stereo slide show)
03/2006, Seattle Erotic Arts Festival (invited artist and winner: first place award, visiting artists juried show - MF3d slide stereoscope installation)
07/2006, 3-D Center, Portland (CGI stereo prints)
03/2007, 3-DCenter, Portland (large format stereo prints)
05/2007, f-Stop Gallery, Seattle (invited artist, MF3d installation)
06/2007, Ix-Project Juried Show (print)
02/2008, Black Maria Gallery, Los Angeles (invited artist, MF3 installation)
02/2008, Dirty Show 9, Detroit (three MF3d installations)
05/2008, Erotic Signature Competition, The World's Greatest Erotic Art II, acceptance/book winner
06/2009, LOOK3 Yourspace group exhibition (MF3d installation)
07/2009, Tilt Gallery, Phoenix (invited artist, MF3d installation)
03 - 09/2009, "1 Brain + 2 Eyes = 3D" Exhibit, Oregon Historical Society, Portland (anaglyphs)

Resume:
Boris Starosta, 434-220-4813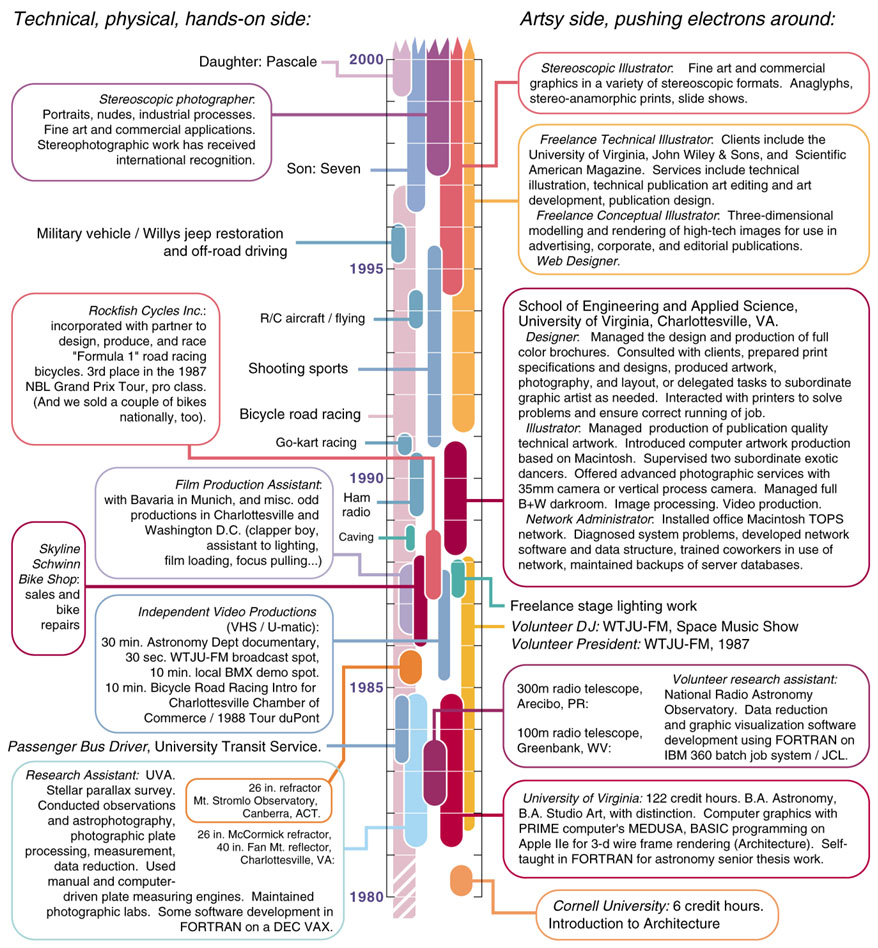 |- H o m e -|- P o r t r a i t s -|- T E C H N O B O T -|- C O M W O R K-|
---
Unless otherwise noted, all contents of this page, individual or
aggregate, are copyright 2009 Boris Starosta.  All rights reserved. 
Unauthorized duplication is a violation of applicable laws, and is
destructive of free enterprise, creative expression, and the human
spirit.

All other product names mentioned in these pages are used
for identification purposes only, and may be trademarks or
registered trademarks of their respective companies,
and the exclusive property of their respective owners.